Exhibition Booths
4WCWS provides an opportunity for shelter organizations, other NGOs, government agencies and grant-making organizations to showcase their products and services to the world. With 1,500 delegates expected, the conference allows organizations to reach a globally diverse group, meet potential collaborators, and discuss future partnerships.
| Exhibitor | Description |
| --- | --- |
| APEIRON-Creating a gender equal society | APEIRON is a women led nepalese NGO working to create a gender equal society in Nepal. With four main areas of intervention, APEIRON aims to achieve gender equality and reduce all inequalities so that people of all genders can pursure any opportunity they choose and are not restrained by gender-related barriers to rights, resources and services. |
| Chinese Childrenhome and Shelter Association (CCSA) | Core Value: To establish a resource and information network in order to help children and young people without home care to grow adequately. Vision: To be a consultant, resource and service center for children and young people without home care. Service Concept: To help the shelters implement "Total Quality Management" of NPO and practice Educational Love as Eduard Spranger advocated. In this way, children with trauma could receive long-term, selfless, and abundant love. Clients: Children and teenagers who are lacking of major caregivers; Children and teenagers whose families are dysfunctional . |
| Love Binti International | We are Uganda based NGO that originated from Taiwan. We work in east- Africa aiming to solve the poverty and disadvantage caused by gender issue. We have different project implementation toward to solve this issue. Health Education, Farming enhancing project, connecting local NGO, Churches are what we do. |
| Modern Women's Foundation | Modern Women's Foundation was established in 1987 in hopes of promoting women's rights and helping women to strike a balance between traditional and modern roles. Our vision is to help everyone family in need to survive the crisis and start recovering. Meanwhile, we fight against gender-oriented violence and strive to create a society of equality, safety, dignity, and development. By so doing, we hope to promote women's and children's rights and build a society that is free of any forms of gender-based discrimination. Our mission is to be the most trustworthy group for victims of violence and steadfastly protect the rights of women and children and comfort the victims by providing professional services. |
| ROKS - National Organisation for Womens and Young Womens Shelters | Roks, the National Organisation for Women's Shelters and Young Women's Shelters in Sweden, is the largest member organisation for women's shelters and young women's shelters in the country. Roks aims at safeguarding the common interests of the shelters in their work against male violence towards women. Roks strives to shape public opinion, and actively works to make the public aware of the reality that the shelters face, as well as conduct outward dialogues around the issues concerning the shelters. There are currently around 100 women's and young women's shelters within the organisation. Roks is a feministic organisation working on the rights of women's and young women's rights and liberation, as well as equality on all levels. |
| SHEalter @ Taipei Women's Rescue Foundation | Taipei Women's Rescue Foundation (TWRF) was founded in 1987. It is a pioneering force of ending trafficking women in Taiwan and a precursor feminist organization promoting gender equality and providing real rescues. In 1992, TWRF set up hotlines for "comfort women" and investigated complaints under the authorisation of the government. TWRF continues to pressure the Japanese government to apologise and compensate them alongside Korea and the Philippines, and asked the Taiwanese government to compensate the comfort women who suffered from the sexual violence of Japanese soldiers during the World War II. |
| Tainan Feyian Association | Tainan Feyian Association (TFA) was registered in 2006 aiming to provide skills training for female small business owners, and a place where they can support and encourage each other. TFA also creates more opportunities and enhances personal growth by holding seminars and workshops for potential female business owners in order to improve women's economic position. |
| Taiwan Coalition Against Violence (TCAV) | Taiwan Coalition Against Violence (TCAV) consists of 39 groups and 35 experts, including service groups, crime prevention and mental health centres that provide care and education and fight against sexual violence for women and children. The coalition assembles all the groups in Taiwan to provide advocacy by looking into individual cases and the entire system, hoping to establish sounder guidelines for better policy implementation and evaluation. It has made long-term efforts to protect women and children and spares no effort to fight against sexual violence both at home and abroad. |
| Taiwan Tongzhi (LGBT) Hotline Association | Established in 1998, Taiwan Tongzhi (LGBT) Hotline Association believes in peer counselling and the power of supporting networks. We strive to eliminate the stigma and unfair discrimination against LGBT persons through phone counselling and social education. We provide over 1000 times of phone counselling every year and have given more than 200 speeches on sex education, and held more than 300 events for different groups (including LGBT parents, teenagers, older and disabled LGBT persons). We also urge the government to amend laws regarding human rights, education, and HIV/AIDS policies, at the same time, focusing on social issues such as labour rights and environmental protection. |
| Teenage Girls Support Center "Colabo" from Japan | Our Mission Statement: We are working to create a society in which all girls have clothing, food, shelter, and people they can rely on. A society in which girls in trouble do not find themselves being exploited or exposed to violence. We support teenage girls through counseling, night patrols,providing meal and daily necessities,accompanying girls to institutions , management of shelters,and an empowerment group for girls, and educational activities . |
| Urban Resource Institute | Urban Resource Institute (URI) provides life-saving, empowering social services for New Yorkers who are suffering and recovering from domestic violence. For 38 years, URI has been innovating and developing new programs to improve the lives of vulnerable New Yorkers, with a particular focus on survivors of domestic violence. We help individuals and families escape abuse; safely heal; and gain the resources needed to live healthy, independent lives. We also are the only organization in New York City and one of the few nationally that extends these services to pets. |
| Women's Shelters in Afghanistan | The Colombo Plan is an inter-governmental organization established in 1951 in Colombo, Sri Lanka, to promote regional cooperation among 27 member countries in the world, mostly spread across the Asia-Pacific region. The Colombo Plan Gender Affairs programme was established in 2014 focusing on supporting gender related issues in the region. The Colombo Plan Gender Affairs Programme (CPGAP) has been in operation in Afghanistan since 2014, supporting Afghan people affected by gender based violence and supporting them through re-integration programmes. |
| Korean Women's Hot Line (KWHL) | Since 1983, Korea Women's Hot Line (KWHL) has worked to bring about a nonviolent world and to promote gender equality. KWHL works to protect women's rights by combatting domestic violence, sexual violence, and human trafficking from all kinds of violence against women. KWHL is a nationally recognized organization with 25 branches throughout Korea. Each branch actively campaigns against violence and advocates for women's rights. |
| GNWS - Helpline Project | The Global Network of Women's Shelters (GNWS) was founded in 2009 to unite the women's shelter movement globally. GNWS believes the women's shelter movement plays a critical leadership role in the global effort to end violence against women and their children. GNWS organizes networking opportunities, world conferences, data collection, and other initiatives guided by the diverse experiences of violence and oppression faced by women and their children. |
| The Garden of Hope Foundation | The Garden of Hope Foundation is a non-government, non-profit group established in 1988 to help disadvantaged girls and young women, especially girls caught in the sex industry, survivors of sexual abuse and domestic violence, and survivors of human trafficking. Many of our clients have been subjected to more than one form of abuse. |
We are offering two kinds of spaces: large booths with a walled space and other facilities, and a simpler standalone table with basic facilities. Both are available at a bargain price.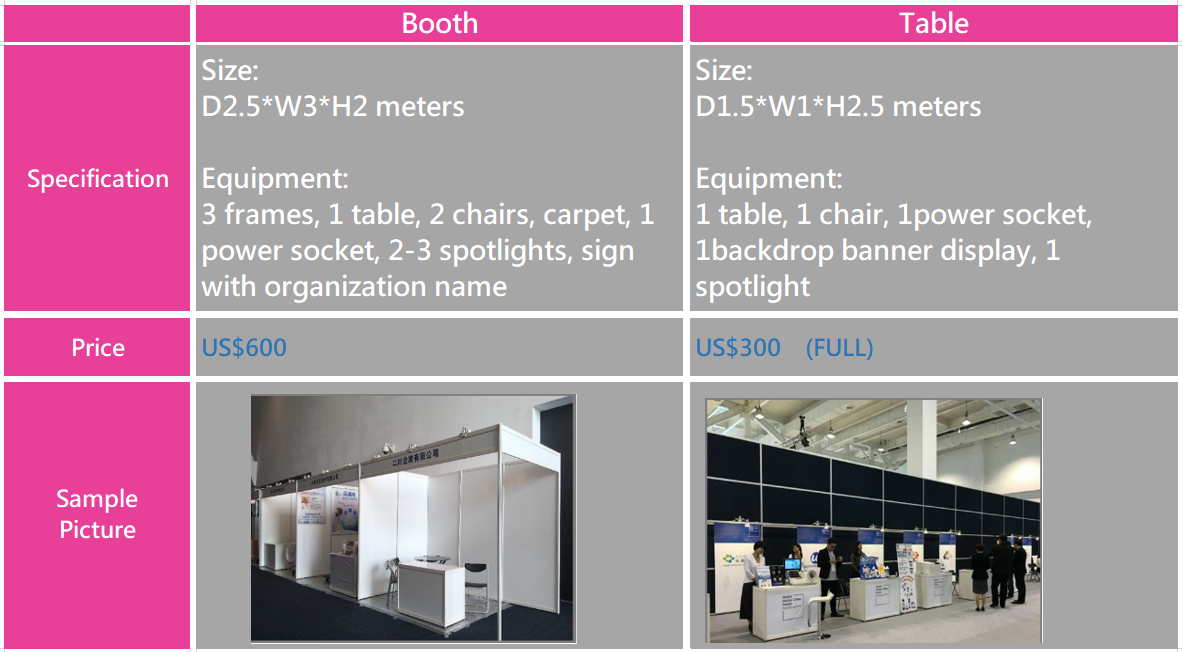 Large booths with a walled space and other facilities are US$600 and simpler standalone tables with basic facilities are US$300. Bank charges are not included.
Please note that you are responsible for decorating and staffing your booth/table. We do not expect you to have someone on duty all the time, but recommend you assign a member of staff to at your booth/table during lunch and coffee breaks.

Please also remember that if you cancel your booth at any time up until October 7, 2019, you will be charged a 50% processing fee. You may apply to transfer ownership of your booth to another organization up until October 7, 2019, with a US$50 administrative transfer fee. Other than exceptional circumstances, no refunds will be given and no transfers will be accepted from October 8, 2019.
Please note the above prices do not include service charges (see below for details)
Payments by:
Credit card/PayPal: A 4.4% service fee charged by PayPal will be added to the above.

Wire transfer: A US$7 incoming international wire fee will be added to each transaction. Please note that you should pay the outgoing bank transfer fee (typically US$20) by yourself. After making the payment, please send us proof of transfer – either a receipt, pay slip or screenshot from your online bank that clearly shows your name and account number.
Exhibitors will also be visible in the program book and on the conference website. Ensure your participation by applying for a space early. Click the button below to fill out the online application form. Once you pass the review process, you will receive an invitational email with links to proceed to booth payments.