The feminism welcoming women with disability in Women's Shelters and the first Italian Observatory on Multiple Discrimination (歡迎身心障礙女性的婦女庇護所與義大利第一次多種歧視觀察會)
Time:
11/06/2019 - 11:15 to 11/06/2019 - 12:45
Type:
Proposal(Workshop / Presentation)
Coordinating organization:
Theme:
New Methods in Shelter Management and Social Work
Organization Introduction:
DIFFERENZA DONNA NGO formed in Rome on 6th March 1989 with the goal of exposing, combating, preventing and overcoming gender-based violence. Since the beginning, the Association has held the view that the discrimination, marginalisation and oppression of women are a widespread, complex and serious social phenomenon that can be effectively fought through specific competences only.
Over the years, our projects have received praise, support and funding at both national and international level.
In 2011 Differenza Donna NGO has been a founding member of D.I.Re – Donne in rete contro la violenza (Women's Network against Violence) -, the Italian national network of Centres against Domestic Violence and Women's shelters. Since 2015, the Association belongs, as an expert NGO, to PICUM – the non-governmental organisation that aims to promote respect for the human rights of undocumented migrants within Europe. On the same year, Differenza Donna was admitted into AOI – the Italian Association of cooperation and international solidarity organisations.
In 2016, Differenza Donna NGO has acquired consultative status within the ECOSOC – United Nations Economic and Social Council.
Today, Differenza Donna NGO is a great organization, with hundreds of members and a broad range of initiatives aimed at modifying the traditional socio-cultural perception of the female gender and at seeking effective forms of interventions to overcome the difficulties women commonly experience.
Differenza Donna NGO undertakes a vast number of activities thanks to the large variety of professional figures among its members: psychologists, psychotherapists, social workers, educators, lawyers, journalists, sociologists, IT experts, anthropologists, and more, all take part in the Association's overall project.
Our structure is composed as follows: President – Directorial Board – Guarantors' Board – Members' Assembly. Members may work as volunteers or expert counsellors in our Centres, Shelters and Helpdesks after attending our training course.
Describe your workshop/presentation (300-500 words):
In the workshop we would like to introduce our innovative practice to welcome and host women with different disabilities victims of violence at the Antiviolence Centers and Women's Shelters. We would like to explain the actions we have designed, where we started from and what obstacles we found and overcome, in order that this modality of intervention could be a valuable contribution and a moment of reflection for all the women who work in the Antiviolence Centers and Women's Shelters.
Differenza Donna has been the first NGO in Italy overcoming that gap which had never included women with disabilities into feminism. Thanks to our hard work, we found out that we needed to better analyze the phenomenon, and to do so, we created and launched a National Observatory On Gender-based Violence on Women with Disabilities. Through this Observatory, we report inefficient services, unable to decode situations of violence and to intervene in public policy, which too often does not take into account such obvious discrimination, not including, for example, indicators capable of bringing to light the gender and disability perspectives in an organic way. Since 2014 we have met around 100 women with different disabilities. The way in which gender-based violence is perpetrated on women with disabilities is similar to that on women without disabilities, but it starts from different roots. The assumption is that the former are not represented as a sexual object by patriarchal culture but they are seen as eternal girls or angels, unlike women with cognitive / intellectual disabilities who are perceived as hypersexualized in the collective imagination. This topic also emerged from a research we conducted with the University of Kent in 2016.We have subsequently activated another modality of intervention: the Focus Groups with women with different disabilities on issues of women's rights, on sexuality, and gender-based violence. It turned out that 97% of them had suffered violence and sexual abuse at least once in their lifetime. We believe that the subject of the inaccessibility of Antiviolence Centers and Shelters by women with disabilities is not tied exclusively to the physical place, but it starts from a culture of body objectification, which women without disabilities always have fought, not including women with disabilities.The awareness of the violence suffered and of access to Antiviolence Centers and Shelters is not a foregone conclusion for a woman who is not considered as such by the whole society, and who has been raised by the family and society as an "angel". From our experience, our thinking has been enriched in an inclusive way. We have analyzed the forms of violence that most frequently they suffer and by whom, we have found different strategies to respond to every kind of need of women who overcome violence(for example: we have activated a nursing assistance service inside the Shelter for a woman in need, or we have supported a woman in court to urgently request to welcome her in a rehabilitation facility, ensuring the presence of an operator who weekly meets her).
All Speakers:
Biography:
Clinical and community psychologist expert in the gender-based violence since 2011, with focus on women with disabilities.
Enrolled in the psychologist's register since 2002 and consultant for the ordinary Court. Researcher since 2012 and co-author of the "Aurora Project: violence and disability" and "Forgotten Injuries" publications. Responsible for the first Italian Observatory on Multiple Discrimination launched in 2019, she manages Focus Groups and self-help groups for women with disabilities in order to implement awareness tools created by women for women.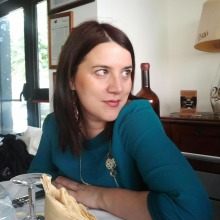 Biography:
Activist since 1994 for women's rights in Differenza Donna NGO, she became the president of the organization in 2014.
She has been Manager of the Antiviolence Shelter for women and children victims of violence of the municipality of Rome, and Manager of the anti-trafficking Shelter for women victims of trafficking.
She is also a project manager and a gender expert in several national and international projects against gender-based violence as in Russia, Kazakhstan, Morocco, Palestine, Nicaragua.
She graduated in Political Sciences with a focus on International context at the University "La Sapienza" in Rome and won a scholarship for a post-graduate Master's Degree in International cooperation at CIRPS - University "La Sapienza" in Rome.