Enhancing Services through Mobile Advocacy (應用流動性倡議改善安置服務)
Time:
11/06/2019 - 13:45 to 11/06/2019 - 15:15
Type:
Proposal(Workshop / Presentation)
Coordinating organization:
Theme:
New Methods in Shelter Management and Social Work
Organization Introduction:
Eve's Place Inc. is a nonprofit organization that provides services to victims of domestic, sexual and teen dating abuse through mobile services. Our program specializes in reaching survivors who will not access shelter or need housing but still need supportive services such as safety planning, individual advocacy, support groups, legal advocacy and transportation. Our advocates meet survivors where they are in their journey in a safe location of the survivor's choice. Our services are provided in Maricopa County in the state of Arizona with a population of over 4.4 million people. In addition we have a rural program located in Quartzsite, Arizona that serves a 75 mile radius and a tribal program located in Kayenta, Az on the Navajo Nation, which is the largest reservation in the U.S.
Describe your workshop/presentation (300-500 words):
Mobile Advocacy is an option for survivors who do not need/want to enter shelter. This model is geared to deliver services to survivors where they are rather than making them go to services. This is especially true when transportation is a primary barrier. To develop and maintain a mobile advocacy program, an organization has to make a commitment to provide this type of service and explore ways to support the process. Most survivor-based services concentrate on safety planning, in addition to many other individualized services. Safety planning has to take a step further and not only address the survivor's safety, but that of the Advocate providing the mobile services. Finding ways to increase access while decreasing risk is key to mobile advocacy. While the model is gaining popularity and sounds straight forward, there are challenges, obstacles and barriers that will be part of program delivery. Making sure that every survivor is engaged, supported and provided with flexible access to needed services has to be the foundation of any mobile advocacy program. Survivors can enter at any stage of their process, making an open and accepting environment crucial for their journey. Mobile advocacy guarantees individualized services to each survivor and provides opportunities to determine their own needs. Mobile advocates need the freedom to find creative meeting spaces and resources for each survivor. Eve's Place has been providing mobile advocacy services for five years. We will share our triumphs and disappointments in keeping this program innovative and accessible in urban, rural and tribal settings. You will gain information and tools to begin the process of building your own mobile advocacy program. We will share our step by step process of developing this model and some of the tools that are utilized to evaluate the effectiveness of the program for survivors.
All Speakers:
Biography:
Laura has over 20 years of experience working with survivors of domestic violence.
She has worked in rural, metropolitan and most recently tribal based programs during this time.
Laura completed her undergraduate degree in Child Development and Family Relations at the
University of Arizona and has two Master's Degrees from Colorado Technical University
(Project Management and Program Management). Laura has concentrated her work in finding innovative
models to make services to survivors more accessible. She has transitioned Eve's Place from being a
small grassroots organization solely serving survivors of domestic violence in the West Valley of
Maricopa County to a progressive program focused on mobile advocacy services for survivors of
domestic and sexual violence in multiple locations throughout Arizona.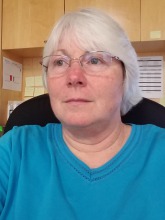 Biography:
Marci Chenoweth has been the Chief Operating Officer for Eve's Place for over 10 years. She earned her
Bachelor of Science Degree at the University of Arizona in Family Studies and Human Development. She has
been working with Domestic Violence victims for over 15 years with an emphasis in youth and teen services,
Immigration reform and developing programs to reach victims of domestic abuse in isolated areas. At Eve's Place,
Marci has worked to develop and implement the Mobile Advocacy Program for survivors of domestic abuse she co-founded.
She has created a process that allows any survivor to access and receive services. She has designed the program to deliver
services to survivors in their local area, while maintaining safety and confidentiality of those receiving services.